Sato Satomi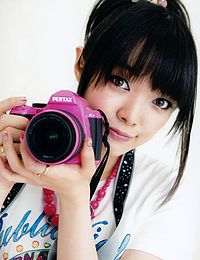 Nome
: 佐藤聡美
Data de Nascimento:
8 de Maio de 1986
Local de Nascimento:
Miyagi, Japan
Tipo Sanguinio
: O
Altura
: 153cm
Grupos
: Kisty (2006)
Sakurakou K-ON Bu (2009)
SITE OFICIAL
Satomi Sato , Nascida no dia 08 de maio de 1986 é uma atriz de voz de Sendai, Miyagi Prefecture, afiliada a Talent Júnior Aoni Produções. Ela é formada pela Tóquio Gakuin Performing Arts College. Ela também é conhecida como Sugar (しゅ が ぁ e como "Sato" 砂糖), que significa "açúcar" em japonês. Ela é mais conhecida por seu papel como Ritsu Tainaka no K-On! anime da série e Wendy Marvell na série Fairy Tail.
2007
Kamichama Karin as Michirian #3
GeGeGe no Kitaro (fifth series) as Female High School Student, Girl and Kijimuna
Shugo Chara! as Wakana, Ramira
Fantastic Detective Labyrinth as Yae Yatomi
2008
GeGeGe no Kitaro (fifth series) as Maid
Jigoku Shoujo Mitsuganae as Mikage Yuzuki
Hyakko as Inori Tsubomiya
Shugo Chara! Doki as Wakana

2009
K-On! as Tainaka Ritsu
Anyamaru Tantei Kiruminzuu as Rimu Mikogami
Asura Cryin' as Aine Shizuma
Asura Cryin' 2 as Aine Shizuma
Dragon Ball Z Kai as Cargo
Hatsukoi Limited as Yuu Enomoto
Yumeiro Patissiere as Kanako Koizumi
Toaru Kagaku no Railgun as Banri Edasaki, Girl

2010
K-On!! as Tainaka Ritsu
Mayoi Neko Overrun! as Otome Tsuzuki
Seitokai Yakuindomo as Aria Shichijou
Ookami-san as Machiko Himura/Mysterious Beauty
Fairy Tail as Wendy Marvell
Ore no Imōto ga Konna ni Kawaii Wake ga Nai as Manami Tamura

2011
Ro-Kyu-Bu! as Manaka Nobidome
K-On! Movie as Tainaka Ritsu

2012
Hyōka as Chitanda Eru
Queen's Blade Rebellion as Lyla

Computer & video games
Koumajou Densetsu II: Stranger's Requiem (紅魔城伝説Ⅱ 妖幻の鎮魂歌) as Hong Meiling
Magical Girl Lyrical Nanoha A's Portable: The Gears of Destiny as Kyrie Florian
Tales of the World: Radiant Mythology 2 as Descender
Tales of the World: Radiant Mythology 3 as Lazaris
Otomedius Excellent as Gesshi Hanafuuma, Ryukotsuki, Gradian Operator

Radio
Kisutī no kisutī taimu (kistyのkisty time) on internet radio station BBQR
Tomokazu Miki no rajio bigguban (智一・美樹のラジオビッグバン)(QR, November 2005 til September 2006
Tanahashi Mai to Satō Satomi no ranchitaimu myūjikku (棚橋麻衣と佐藤聡美のランチタイムミュージック), September to December 2007
Mai to Shugā no masshu rūmu (麻衣としゅがぁのまっしゅ☆Room), 4-5pm Saturdays, January to March 2008
Rajio Dotto Ai; Satō Satomi no shugaa potto (ラジオどっとあい 佐藤聡美のしゅがぁぽっと), October 9, 2009 till January 1, 2010
Rajio☆Satomi Hakkenden! (ラジオ☆聡美はっけん伝!), 9-10pm Fridays, April 8, 2011 till present
Drama CD
Gattsu Batorā Jī (ガッツバトラーG) as Girl
Nusunde Ririsu (盗んでリ・リ・ス) as Maid
Renai Idenshi XX (恋愛遺伝子XX) as Mizuki
Singles & albums
"Koibito wa tententen" (恋人は……) with Kisty
As the voice actor for Ritsu Tainaka in K-on, she participated to four singles and one album
"Cagayake! Girls" ranked #2 on Japanese Oricon singles charts.
"Don't say 'lazy'" ranked #3 on Oricon singles charts, and was awarded Animation Kobe's "Best Song" award.
"Light and Fluffy Time" ("ふわふわ時間") ranked #3 on Oricon singles charts.
"Ritsu Tainaka" ("田井中律") image song CD of the eponymous character, ranked #5 on Oricon singles charts.
Hōkago Teatime (放課後ティータイム) ranked #1 on Oricon albums charts.